Product features
Suitable for teeth and bones, genomic DNA of which are deemed difficult to extract.
No need to grind samples into powder, hence minimize the risk of cross-contamination.
Extracted DNA can be used for mitochondrial DNA sequencing, genotyping of STR and Y-STR, etc.
Procedure of DNA extraction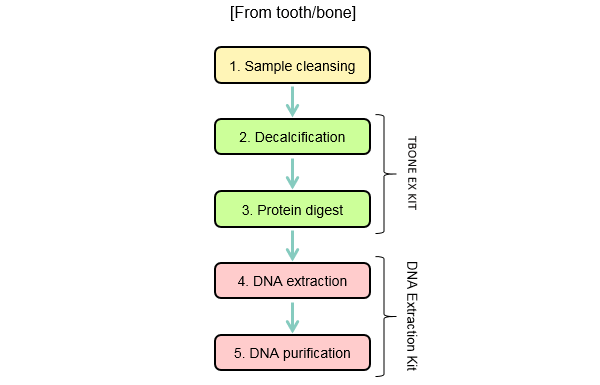 Use purified DNA for downstream assays.
Kit contents
Solution A 20 tubes
Solution B 20 tubes
Solution C 20 tubes
Protocol 1 booklet
Reagents to be purchased separately (not included in the kit)
1.DNA Extraction Kit
During DNA extraction procedure, you will need a part of conventional DNA extraction kit. The followings are examples of DNA extraction kit, which are compatible with TBONE EX KIT. Please consult with us if you wish to use any alternative method.
| Product | Manufacturer |
| --- | --- |
| QIAamp® DNA Blood Mini Kit | QIAGEN |
| EZ1 DNA Investigator Kit | QIAGEN |
| PrepFiler® BTA Forensic DNA Extraction Kit | Thermo Fisher Scientific |
2.Equipment
Hair dryer (optional)
Incubator
Centrifuge
3.Other Reagents
Proteinase K
Phenol, TE-saturated
Ethanol Anhydride (for sample cleansing)
4.Consumables
Neutral detergent (for sample cleansing)
Tooth brush (for sample cleansing)
Microcentrifuge tubes
Sales information
Product
Size
Catalog#
Price
(Tax not included)
TBONE EX KIT
20 Preps
TBEW200
59,000 JPY / kit
* excl.tax(8%), shipping cost
FAQ
Is TBONE EX KIT available for RNA extraction?
No, only DNA can be extracted by this KIT.
Can I use TBONE EX KIT to extract samples from animals?
To Apply TBONE EX KIT to animals' samples is out of warranty.
Which part should I pick from bone sample?
Any part can be used.
Which kit should I use to purify DNA?
We recommend QIAamp DNA Blood Mini Kit and QIAamp DNA Investigator Kit. PrepFiler is also compatible according to user's feedback.
Is the yield of DNA better if I grind the sample?
It depends on sample condition. Yield of DNA has been reported to be better according to Kitayama et al. 2010, Legal Medicine 12, 84-89.
Can I use TBONE EX KIT for extraction from damaged bone sample?
Yes, according to reference, DNA of sample over 60 years had been reported to be successfully extracted.
Can I use TBONE EX KIT for extraction from damaged tooth sample?
Yes, according to the reference, DNA of tooth sample over 20 years had been reported successfully extracted.
Terms of Use
This kit is intended for research use only. It cannot be used for purposes other than DNA extraction, such as disease treatment or diagnosis.
We are not able to provide technical support for trouble shooting or data interpretation if you used methods outside of our provided protocol.
Please contact each manufacturers if you have questions about reagents and consumables that need to be purchased separately.
The specification of the kit may be changed without advanced notice.
This kit is manufactured and sold under patent license agreement with Shinshu University and Hitachi Solutions, Ltd.
Information last updated: May 2015.